6 Inspiring flashy pieces that are easy to learn
Playing the piano is hard. While this statement is absolutely true, there are a number of pieces that are actually easy to learn but sound very impressive, especially (shhh) for those who don't know much about it.
Jun 14, 2020 • 5 min read
4912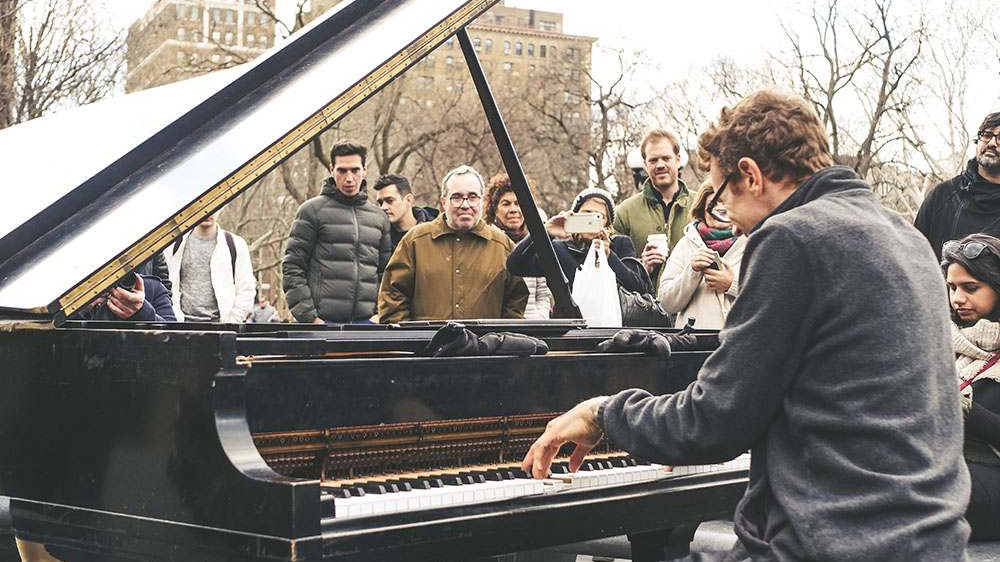 Want a heads up when a new story comes out?
When I started picking up piano lessons, all I wanted to play was the big repertoire. Chopin's Etudes, Rachmaninoff's Moment Musicaux, Beethoven's Appassionata, and so on. After months of elementary pieces and tedious studies, I was craving for something more passionate and exciting.
While it's good to keep a balance between the pieces that we should play from the ones we want to play, sometimes it's also nice to indulge.
After months of research, aimed to build the database at the core of the PianoLIT app, we have discovered some incredible repertoire great for technique building, tone development, and with that flashy passionate character that only some later advanced pieces usually have.
Let's explore the 6 we choose for this article but keep in mind that we're adding pieces on a daily basis, so stay tuned for more updates...
1. Fountain in the Rain by William Gillock
Late Beginner
Gillock was a master of writing music in Romantic style. This short piece has some very impressive parts with running broken chords and impactful chords.
By practicing this piece, you will improve your skills in expressive phrasing.
Learn more about this piece HERE
2. Prelude in C major by Kevin Olson
Late Beginner
If you're looking for pieces at an early-intermediate level that will help develop your tone, we recommend Kevin Olson's Preludes in Patterns. The piece highlighted here is the first in the collection. Using very few notes, the harmonic sequence creates a beautiful melodic pattern that stays on your mind long after hearing it.
Learn more about this piece HERE
3. Les Perles by Frederich Burgmüller
Early Intermediate
Burgmüller etudes are an excellent pedagogic work with Op.100 preparatory to Op.109. les Perles is form Op.109 and it has all you need for an impactful, flashy piece: lots of scales, full sound, expressivity.
Learn more about this piece HERE
4. L'Avalanche by Stephen Heller
Early Intermediate
Heller was a prolific composer and his studies remain popular with music teachers and students. Because of his strong romantic influence, some of his studies have a very impetuous character as seen in "The Avalanche" from Op. 45.
Learn more about this piece HERE.
5. Witches' Dance by Ernst Kullak
Early Intermediate
Witches' Dance comes from a set of six pieces published in 1885 by Ernest Kullak, but at some stage in the 20th-century, it seems to have been misattributed to his uncle Theodore Kullak, a famous composer and teacher in his time. It is difficult to find such high artistry in a piece so well written for late beginners/early intermediate pianists. This piece is bold, exciting and it might just become your next favorite!
Learn more about this piece HERE
6. Toccata by Martin Cuéllar
Late Intermediate
This Toccata is an extraordinary example of a flashy, well-written piece that is not as difficult to play as it looks like. The percussive and energetic style is similar to that of composers such as Villa-Lobos, Ginastera, or Albeniz. Here is what you'll improve with this piece:
percussive coordination between hands;
advanced pedal technique;
unusual rhythms;
playing on the extreme ends of the keyboard.
Learn more about this piece HERE
•
•

•

By downloading the PianoLIT app you'll have access to all the pieces listed in this blog post and many more. You can start your FREE trial now and request tutorials and tips on how to practice the difficult parts, enhance your performance, and polish your technique. There is a great amount of content and the platform keeps expanding with additions on a daily basis.

Get the free PianoLIT app and start exploring new repertoire!
PianoLIT Team
Where pianists discover new pieces and find inspiration to play only what they love.